Automotive Castings
Key Industries . . .
• Electronic Heat Sink Control Modules
• Electronic Power Steering Components
• Variable Valve Timing
• Engine and Transmission Mount
Electronic Heat Sink Control Module Castings:


Photo 1: Cover Control Module / Heat Sink casting for Automated-Manual Dual Clutch Transmission (DCT)
Photo 2: Housing for Electronic Engine Control Module (Heat Sink)
Photo 3: Cover for Electronic Control Module for Engine and Transmission Electronics (Heat Sink)
Yoder Industries, Inc., specializes in high technology castings, including difficult to cast engine
and transmission heat sink die castings. These precision engineered electronic control modules require
a synergy of optimized casting design and critically controlled casting parameters to ensure consistency
in casting quality. While the fin geometry is critical to heat dissipation and meeting customer FEA
requirements, the elements of the optimized casting design and die cast process are at the heart
of success. Utilizing state of the art process monitoring and process control techniques, Yoder is
able to achieve exception casting integrity and surface finish. Yoder Industries is pleased to supply
European and U.S. automotive customers with a variety of heat sink control modules.
Key Features:
Casting to net shape no machining required
Zero Heat Check permitted on DCT castings without machining
Surface Finish and Surface Tension different on opposite sides of casting
Excellent fill of fins
Critical flatness
Cleanliness requirements
Packaging concept developed by Yoder Industries
Electronic Power Steering Components:


Photo 1: Half Shaft Power Steering Bracket Hanger (Intermediate Drive Shaft)
Photo 2: Half Shaft Power Steering Flange (Intermediate Drive Shaft)
Photo 3: Electronic Power Steering Housing
Photo 4: Electronic Power Steering Cover Assist
Yoder Industries, Inc. specializes in new technology castings, including electronic
power steering components. With a focus on EPS, drive shaft and assist castings.
Due to stringent requirements for porosity and surface finish, these components require Robust
casting designs and repeatability in the manufacturing process. We provide precision machined
castings to tight tolerance requirements.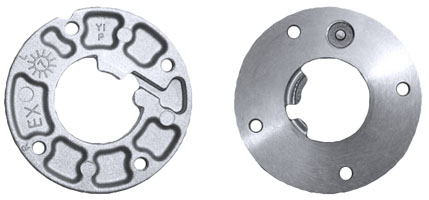 Yoder Industries is the leading U.S. supplier of intake and
exhaust castings for Variable Valve Timing assemblies.
Behind fuel efficiency and the smooth ride of the VVT technology, is a die casting that has exceeded
customer expectations.
Yoder Industries is maintaining a casting flatness average of .161 or less and as a result,
machining flatness of up to 18 microns or 0.0007" is achieved and Zero porosity.

Yoder Industries is a WORLDWIDE INDUSTRY LEADER in providing uniquely developed
and proved methods for casting steel threaded studs and inserts into castings.
Core Business for Yoder Industries, Inc.
Expertise in unique bolt design for castability.
Proven methods for tool cavity design and insert design ensuring 100% FLASH FREE threads
through our VisiTech System.
With high-tech precision, steel and bronze bearings are also accurately cast into place.
This method and customized process substantially saves costs over pressing inserts in place.

Automotive Applications
Over 25 Years supplying 2nd Tier
Automotive Products with cast-in-place insert technology
Engine mounts
Hydro mounts
Transmission mounts
Yoder VisTech System
100% AUTOMATED VISION INSPECTION
100% Verifed AUTOMATED Vision Inspection for insert cast parts.
Zero Defects to our Customers
Customed designed and built Yoder Industries technology especially for
"cast-in-place" insert castings.
Verifying the insert from our supplier is 100% conforming.
Verifying the casting with the insert(s) are 100% conforming.

Camera Detection Criteria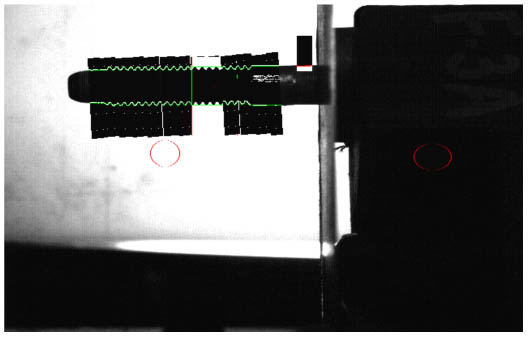 Automated cameras can detect unlimited defects:
To name a few . . .
Flash on the threaded insert (top)
Flash on the threaded insert (bottom)
Bolt missing
Trim damage around part
Incorrect threaded bolt
Bolt missing threads

Additional Features
Yoder VisTech System cameras can accommodate castings
with unique characteristics:

2 similar threaded bolts
2 dissimilar inserts- bolt and a pin Insert-CAST